The Beauty of Authenticity
Anita Hora is the beautiful soul behind Mullein and Sparrow. The luxury skincare brand combines Ayurvedic principles and Western herbalism to create products that not only support healthy skin, but also reflect your soul within. (Plus, they smell absolutely amazing). We invited Anita to share how she believes beauty and self-care can encourage and support the expression of our truest most authentic selves.
Often the conversation around authenticity focuses on personality traits, character and integrity. But what does authenticity look like? What is its physical manifestation?
Scroll to the end of the article for products paired with The TOOLS for extra support while you do the work.
Our approach to authenticity at Mullein and Sparrow is alignment of body, mind and soul.
Rather than compartmentalizing what we do for soul, what we do for body and what we do for mind, we believe authenticity lives in the integration of all things that make up a person. The separation happens because we are taught to view things we do for beauty and body as less important and shallow, and things we do for soul and mind as meaningful and worthwhile. The end result is that on some level we live in conflict, as though our value is in a constant state of flux and we need to keep calibrating it, deciding at each moment where to direct our efforts so that we remain good or become good.
If instead we decided that our value does not diminish or increase- it just is- we can tap into our authentic being in each moment. Once you come to that place of acceptance and presence you approach all things with equanimity and love, including and especially, yourself. We believe coming from this place, this sweet spot that is within all of us, is the best approach to beauty and skincare. Rather than viewing products as avenues to beauty and self-worth, we prefer to shift the focus foremost on what feels right and authentic.
In other words, we choose our beauty rituals, not in order to attain beauty and self-worth, we choose them from a space of self-worth and beauty to begin with.
Choosing to make products like body oils versus a more conventional lotion is intentional. Mindfully applying a body oil with organic essential oils all over your body right after showering isn't the same experience as slathering on a lotion as an afterthought. Its taking time and care for yourself and its choosing well for your skin and body. If that's how you start your day, you're setting the tone for the day that you are present and mindful of your needs. If you understand your value, this naturally extends out into all facets of your life.
I also really love to use our Facial Detox Kit because it requires a setting aside of time for yourself. It requires some prep and is an experience from beginning to end of an at-home-spa type of ritual, starting with an aromatic facial steam and ending with a detoxifying clay mask. Taking the time to sit with your eyes closed, your face over a bowl of gentle steam immersed with herbs and flowers and a towel tent around your face and shoulders, is a deliberate pause. That steam is not just about your complexion- you'll sweat, you'll release and you'll be mindful of your breathing. After all of that, with open pores, open lungs and a calm heart, you'll apply an all natural clay mask on your dewy skin and let the process come to its gentle end with the clays timing as it slowly dries. This process is necessarily a catalyst for self-love because it absolutely requires your love.
Skincare isn't just about your pores, it's also about the love you give yourself with the products and rituals you choose.
If the things that matter to you are reflected in the purchases you make, the decisions you undertake, then you are choosing authenticity in that moment. If the ways you want to treat yourself are being reflected in the rituals you participate in then you are tapped into your authentic needs with that choice. The physical manifestation of authenticity is the person who accepts and understands their inherent self-worth and is able to act from that space.
And whenever we meet such people, we can feel it, and we always find them to be beautiful.
Products Paired with The TOOLS for extra support:
• Receive 20% off when you use the code NATIVE •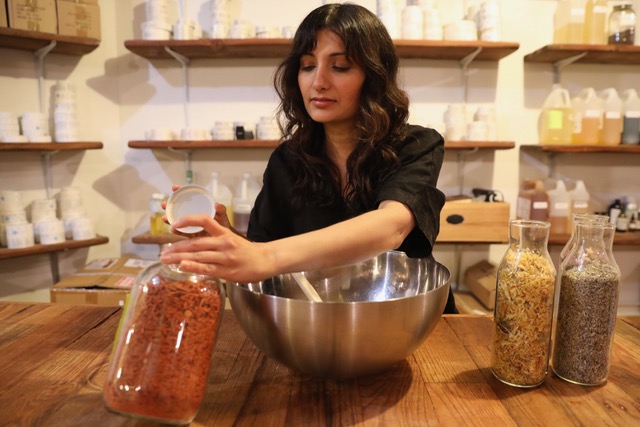 Send to a friend to share the message of beauty in authenticity.